Linked from The Walking Dead.com
Oscar Wilde famously declared that, "Life imitates Art far more than Art imitates Life"--a position that has been argued nearly to the point of irrelevance during the century since...at least until now. We are living in the Golden Age of Craft Beer--a period of enlightenment and elevation. Beer is no longer brewed solely for beer's sake but, at times, for artistic expression and even as an act of creation unto itself.
Concurrent with this artistic explosion in the craft realm is the emergence of visual and written media that exemplify Aristotelian mimesis. Diegestic dictations once dominated people's attention--novels with omniscient narrators who explained everything to the reader. In the past few decades though television has replaced literature as the de facto source of American entertainment and, more recently, dramas have emerged as par exemplar of what the medium has to offer. Programs like Mad Men and Game of Thrones compel viewers with their period realism and epic fantasy, respectively but shows like The Walking Dead, LOST, and Breaking Bad take the art of storytelling to new heights. These masterpieces don't merely
represent
reality but rather create their own utterly believable and engrossing worlds that the viewer experiences almost firsthand; in short, they show rather than tell their tales.
What I find most interesting is the crossover between the worlds of craft beer and visual storytelling. As the craft world has grown in popularity, more examples of craft beer references have begun to appear in some of the most prominent programs on television and in movies. In the season 4 premiere of The Walking Dead, for example--a show that is fiercely loyal to its Georgian filming locations--featured the product placement of no fewer than three different craft brewers: Atlanta's SweetWater, nearby Athens' Terrapin, and Hampton, Georgia's Jailhouse Brewing.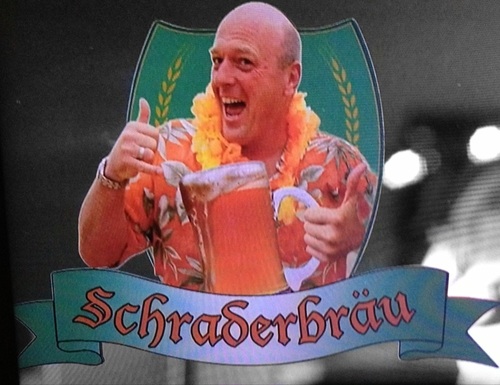 Breaking Bad featured a variety of craft breweries throughout its run (including a season 2 episode prominently featuring New Belgium's Fat Tire Ale) but arguably its greatest homage to the world of beer was the home brewing pursuits of Hank Schrader, one of the show's protagonists and most beloved characters. The hokey irreverence of both Hank and his home brewing hearkens to the fun-loving and lighthearted aspects of craft beer. Corporate sponsorship and carefully manicured public appearances fail to dominate a brewing culture that is driven instead by a desire to create quality and complex products.
Artistic reciprocity clearly exists between the two realms with a slew of brews being created in tribute to many of the most popular television shows. Terrapin's Walking Dead-inspired Blood Orange IPA (pictured at the top of the article) considered the show's milieu in selecting its ingredients as was
this Dock Street Brewing Company's beer
that was brewed with brains. Albuquerque, New Mexico's Marble Brewing released a pair of beers to represent the double lives of one of Breaking Bad's main characters while simultaneously honoring the show for using the state as its primary filming location. New York's Ommegang Brewery has also had a highly successful line of
Game of Thrones beers
, all of which were inspired by the critically acclaimed HBO series.
Craft beer is beginning to pop up in the literary realm as well. Dr. Arthur T. Bradley--author of a nationally recognized collection of
disaster preparedness guides
--has featured a variety of brews both domestic and international in his Survivalist series of novels including Bohemia Obscura from Cervecería Cuauhtémoc Moctezuma, S.A. de C.V. in
Finest Hour, the sixth book in the saga.
Once again, inspiration flows both ways with beers like Narragansett's Lovecraft Honey Ale and breweries like Denver's Fiction Beer Company whose mission statement is fueled by a love of beer
and
books.
Whether beer is art in its own right or an imitation of art it's undeniable that it has entered the creative arena, completing the circle of inspiration as it continues to redefine itself. Long gone are the years of fighting for legitimacy among Big Beer and even the world of wine. Craft beer has clearly lodged itself in the public consciousness and appears poised to continue to broaden its horizons.
AMC's The Walking Dead returns this October while the complete series of Breaking Bad is available on DVD at AMC.com.
Dr. Arthur T. Bradley's excellent post-apocalyptic Survivalist fiction as well as his line of Disaster Preparedness non-fiction can be found directly at his website here , at Barnes & Noble, or on Amazon.com. Dark Days, the latest installment in the series, is available for preorder.
For more information about the breweries mentioned in this entry please visit their respective websites at the following locations:
SweetWater Brewing Company
Terrapin Beer Company
Jailhouse Brewing Company
New Belgium Brewing
Marble Brewery
Narragansett Brewery